Do you like to take road trips?
A few years ago before we had our children, we went away for the weekend to Beaufort, SC, less than two hours from where we lived at the time, and stayed at a nice Bed and Breakfast, The Rhett House Inn.  It goes completely against my plan-everything-down-to-the-last-detail nature to make a spur of the moment decision like that, but The Chef had had a particularly stressful week and we just felt like we needed a mini-vacation.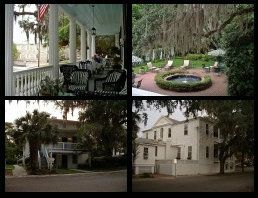 The Inn and its setting were picture perfect!
The morning after our arrival, we ate at the Inn's restaurant.  The only thing I remember eating on that trip was the grits for breakfast that morning.  I've eaten grits all my life, being born and raised in the south, but never grits like those!  They were stone-ground grits and oh-so-delicious.
For more about our trip and for The Chef's Shrimp and Grits recipe, head over to Nomadic Foodie and read our guest post there today!
While you are there, you will find other great recipes from Doniree and information about her or her guest bloggers' travels, such as Top Ten Adventures for San Francisco Foodie Tourists and Six Great Tastes to Try in Iceland.
Great resources for those who love to travel:
Disclosure:  Affiliate links included in this post.

*
If you enjoyed this post, please consider leaving a comment (don't be a stranger!), subscribing (it's free!) to receive e-mail updates of future recipes, or sharing it with your family/friends:
More great ideas: Tip Me Tuesday, Titus 2sdays, Domestically Divine Tuesday, Works for Me Wednesday, Women Living Well Wednesday, The Mommy Club, Foodie Friday,
Wife to Chef John (The Chef) and Mommy to a 6-year-old son and 2-year-old daughter, Foodie, Coffee-Lover, Jesus-Follower. Loves purple. Favorite comfort food is chocolate-peanut butter but has found other indulgences due to needing to avoid too much peanut butter (food sensitivities).