Our must-try recipe this week comes from two young foodies, an 8-year-old and a 5-year-old, and let me tell you… they have good taste!  Look at what they made with their mom, Danielle of Mostly Food and Crafts, today's Featured Food-"e"-Friend:
Photo used with permission; Credit: Mostly Food and Crafts
Now on the surface, this appears to be simply pasta and a meatball.  Remember that saying, "Never Judge a Book by Its Cover"?  This isn't just "any old" meatball.  It's got a yummy surprise inside…. mozzarella (as if you didn't figure that out from the blog title)! 
Mozzarella Stuffed Meatballs are what Danielle says would be her kids' first choice of what we should try first from her their blog!  She says if you are cooking for kids, try this recipe because "they love the gooey cheese surprise in the middle."
Here is what else Danielle had to share with us:
Tell us a little about the "birth" of your blog.  When and why did you decide to start?
I started my blog a little over a year ago. My husband took a job a couple of states away and the kids and I stayed behind while we tried to sell the house. Because of the distance, my husband was only able to come home every three weeks. The house wasn't selling and I was having trouble sleeping at night with all the chaos going on (we lived like this for a year.) I started to browse around online one night, checking out some blogs and then I just went ahead and clicked the "create a blog" button and Mostly Food and Crafts was born.
I toyed around with a few different names and everything I chose was taken. I figured since I would be blogging mostly about food and crafts I would just use that as a name. Lately I feel like I need to change the name to "Mostly Food and Once in a While Maybe a Craft". I love food; cooking it, eating it, reading about it and watching it on TV. My favorite thing though is introducing my kids to the many different foods out there and cooking with them.
I love that you showcase things you made with your kids! What have been their favorites and why?
I LOVE cooking with my kids! I would say one of our favorite cooking memories would have to be the Snow Cream day. The entire day was exciting because it snowed and the snow had accumulated a bit (this doesn't happen often here.) School had been cancelled that day (we love snow days!!).  And we went outside to collect snow to make a treat with -how fun is that?
The kids really got a kick out of it and I had just as much fun as they did. If you ask my kids what their favorite recipes are they would tell you anything that allows them to lick a bowl or spoon afterward. My husband cooks too so we all spend a lot of time together making memories in our kitchen.
Which recipe would you recommend as the first your readers should try from your blog and why? 
You've seen what her kids' recommendation would be.  Danielle shared with us what her choice would be as well: Tandoori Chicken and Cucumber Raita.  She loves the flavors in this dish and makes it a lot.  She also said about it, "I've been called out on it a few times because it isn't cooked in a tandoori oven and maybe I should change the name but the flavors are the same so I'm going to keep it for now." 
And… her husband's choice would be Bolognese, which he requests a lot!
What feature of your blog would you like most for us to know about?
I have a tab titled "I Made It With My Kids" on the top of my blog page. Here is where you will find all the recipes and crafts that I have made with the kids. It's my favorite part of my blog.
So whenever you're in need of some inspiration for ideas of things you can do with your children, you will find lots of neat ideas there.  The most popular recipe from Mostly Food and Crafts is a toss-up between Zucchini Chips and Donut Muffins, which have been linked up in our Star Recipes Collection.  Check it out if you haven't before or in a while.  New recipes are added there regularly.  Add yours if you haven't already!
Before we get to our party, you may also be interested in Danielle's current giveaway, My Memories Suite Software.
Now on to the party for your recipes/food posts!  If you are new, check out our Make a Food-"e"-Friend (MaFF) Monday page for more information on what this party is all about, specifics about how to link from your blog, and for more on how you can be a Featured Food-"e"-Friend in the future.
Just a few reminders before linking:

1) You can link any type of food-related blog post. Just make sure you use the URL for the actual post and not your blog so visitors can easily find what you wanted to share!
2) Don't forget to link back to MaFF Monday, using either a text link, Make a Food-"e"-Friend Monday, or the button: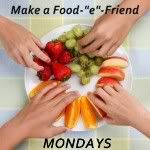 3) Most of all, have fun and be sure to grab a pen and paper, open Pinterest in a new tab, open up your notepad to jot down the recipes you find that you know you want to try.
(Link-up open through Wednesday):
*
If you enjoyed this post, please consider leaving a comment (don't be a stranger!), subscribing (it's free!) to receive e-mail updates of future recipes, or sharing it with your family/friends:
Find more great recipes at Women Living Well Wednesday, Works for Me Wednesday, Foodie Friday
Wife to Chef John (The Chef) and Mommy to a 6-year-old son and 2-year-old daughter, Foodie, Coffee-Lover, Jesus-Follower. Loves purple. Favorite comfort food is chocolate-peanut butter but has found other indulgences due to needing to avoid too much peanut butter (food sensitivities).